Roxy is married  to Boris.
Roxanne Lilia Airay -Hybrid (Half Wolf-Furry, Half Wolf-goddess ) Daughter of Captain Roach and Lupa-The Wolf-goddess, And Wife of Boris
- " I'm daughter of the colonal and Wolf-goddess and wife of Militry Police.
 – I love the Cats, and Wolves (talk) 19:58, December 3, 2012 (UTC)

Hello
When Roxy was born, she is half wolf furry half goddess (demigod), but when her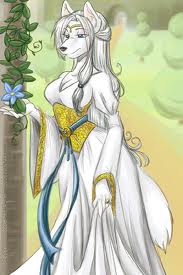 Roxanne is a daughter of Roach and Lupa and sister of Roaul and Luna and twin sister of Lucca and girlfriend of Boris , is also half wolf furry. Half wolf goddess. She met boris at bar when she was 16. When she was 21, boris bit her and she change her form. She is now as Lady of Capitol and White Lady and Fair maiden and  Healer and  Guardian and Shieldmaiden and Warrior maiden. She is Serving with Captain Boris and  her father Colonal Roach and her brother, Lucca. She get married to boris and at honeymoon with him. She is pregnant with triple babies girls.     
These roles she have in Mythicalbeast rp wiki.
Lady of the Capitol-  She look after her people and father and even her mother, and lucca and Captain Boris and take care of her people when they needed her help.

White Lady- She is white as Snow and gentle as Winter. she make sure everyone           is ready and prepara for winter.                                                                                                  
Fair Maiden- She is beautiful as Jewels and Man will fell in love with her.
Healer- She heal people and cure them.
Midwife- She look after Children and babies.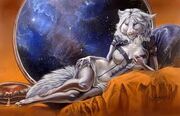 Minstrel- She sing at funeral and other events and occassion, and do speech.
Head Council- She advise people and give them her opinion
Bard- She can speak to animals and tell stories.
Demigod- She is half Wolf furry,, and Half Wolf goddess, because her father is wolf-furry and her mother is wolf-goddess, also known as halfblood.
Shieldmaiden- She is protector and defender of capitol and her people.
Guardian- She guard and  guide people.
Warrior- She fight in war and also Marine Lady.
Lover- She is wife of Captain Boris,